I was spurred on by my friend Mimi...she said you should do some winter white....I said "really??..not to sure about that.."
I Now I am in a winter white kind of mood...I can't stop.
I found this wonderful white Turquoise. I then paired it with Howlite, Pearl, Greek ceramic washers beads, Naga Shell, Moonstone and Fossilized Coral.
Here are the earrings: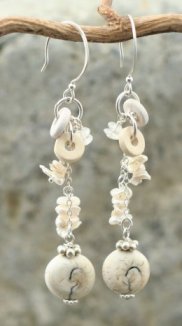 Bracelet: