This Necklace got started when I took a class this summer from Tracey Smith at the Tacoma Bead Show on Framing Pics. I already had the charm of the Eiffel tower and of course I love France (am dieing to go). So then my mind starting putting the story together. Here is the center piece charm (front). The second picture is the reverse side, it is stamped copper: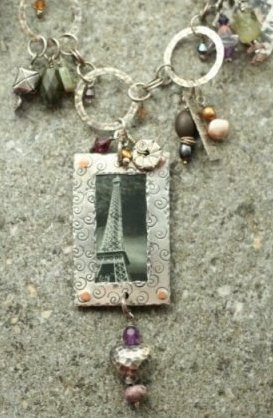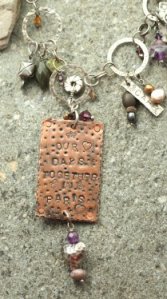 Then the story took on a life of its own as I pounded, sawed and stamped.
Je T'Aime word charm: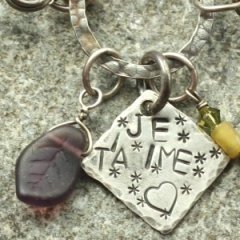 Eiffel tower charm- He gave her a Rose and Pearls: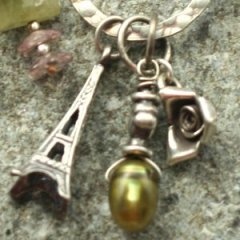 Another framed charm of the lovers and soul mates: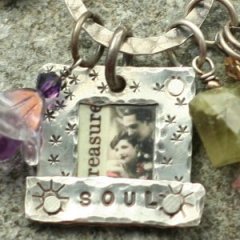 The "Cafe" word charm and wonderful little coffee bean bead to commemorate their times sipping coffee along the Seine: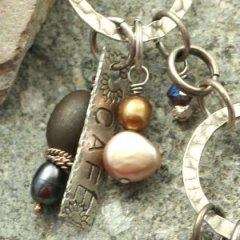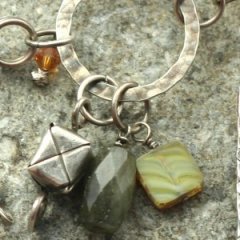 Mon Ami word Charm: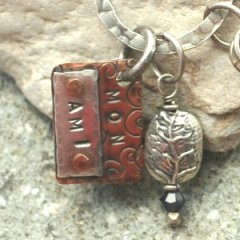 The moon charm for the long walks in the moonlight: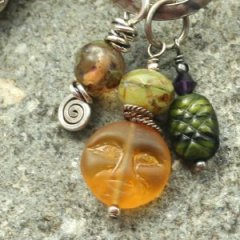 The kiss off "Letter" and a "Why" charm stamped on a sterling heart.
Was it him or was it her?