My Father was in the Local Newspaper....
From the Mining Journal
Need is great for charities By KIM HOYUM, Journal Staff Writer
POSTED: December 19, 2007
"Need is great for charities"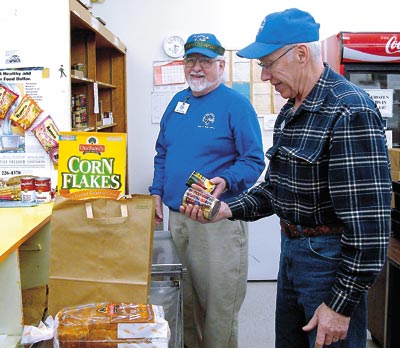 Volunteers Pierre Geoffrion, far left, and Jerry Gerou put together a weekly food package at St. Vincent de Paul's food pantry. (Journal photo by Kim Hoyum)
MARQUETTE — Local charities are seeing an upswing in requests for help this season, as high utility bills and food costs send more residents looking for assistance.Uncertainties in state and federal funding for charitable organizations are compounding the problem, and Michigan's economic plight means more people are falling short on necessities, workers at several local charities said."Helping people with utilities and rent has just been tremendous," said Ron Provost, who works in the Marquette St. Vincent de Paul's financial aid office."We're seeing a lot of utility situations that I'm afraid are going to be repetitive," said Capt. Donna Rose of the Marquette Salvation Army."People are seeking lots of help," said Maureen Sorbet, a spokeswoman for the Michigan Department of Human Services.It's a refrain that's becoming more commonly heard from charities and state organizations around this time of year, as winter heating bills push some families closer to the edge.But they're saying this year is even worse than usual because the long-term economic trends in the state and in the Upper Peninsula are headed downhill, and there just may not be enough help to go around.At St. Vincent's, the money that's available for emergency help with bills or food comes from donations from Marquette County parishes and income from St. Vincent's stores.People have to have an eviction or shutoff notice before they can receive assistance, though, and St. Vincent's usually can't pay large rent bills, so they coordinate help with other local charities, Provost said.The food pantry in Marquette feeds between 500 and 600 families each month and one in Gwinn feeds between 300 and 350 families, Provost said. That adds up to a $15,000 grocery bill for the charity each month."My eyes have really been opened — I don't think a lot of people in Marquette know how bad it is," he said.Provost attributed much of the increase in need to higher unemployment and lower-paying jobs for those who have them. In addition, St. Vincent's is experiencing more of an overflow from the Michigan Department of Human Services."I think part of that's the situation with the state — DHS just doesn't have the money to help these people, and they've had to refer them to us," Provost said.Sorbet said her department has money available but there are more applicants overall, so they are referring more applicants who aren't eligible under state rules to organizations like the Salvation Army or St. Vincent's."We are taking requests for emergency assistance, but there's such a big need out there," Sorbet said.She added the downturn in the state economy plus an early winter means heat assistance in particular is in high demand."Heat is one of the primary needs right now," Sorbet said, adding while DHS had to stop taking applications for heating help twice last year, it is able to take them now.The Salvation Army's assistance programs are funded partly with state money, but also with private donations, Rose said. Depending on the funding source, there may be restrictions on some assistance, such as one-time help or requiring a shutoff notice, she said.But it's tough to fill all the requests when they don't know how long the state money will last, Rose said."The funny thing about state funding is you never know when they're going to cut it off, which is what everyone is experiencing," she said.And while it's the giving season, she said these issues won't be going away in the new year when winter settles in deeper."People get into the giving mode right now because it's Christmas, but in January or February we are going to need support as well," Rose said.